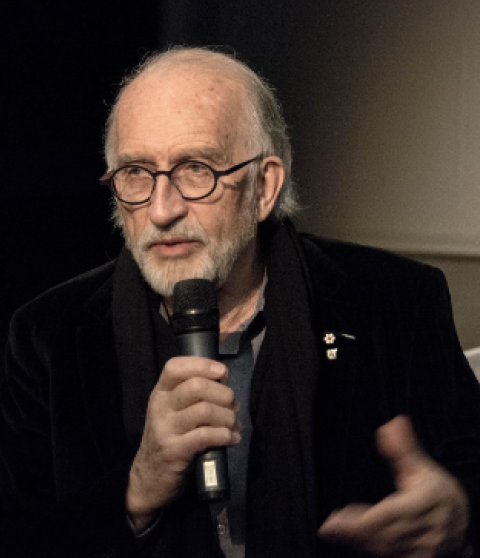 Jean-Daniel Lafond,
C.C., R.C.A., Chevalier
Arts et Lettres
Co-Founder, Co-President

Governance Committee Member

Strategic Committee Member

Ottawa, Ontario
Jean-Daniel Lafond was born in France, where he was a professor of philosophy and a researcher in educational sciences. Visiting Professor at the Université de Montréal in 1974, he opted for exile in Canada and became a Canadian citizen in 1981. He has since devoted his life to filmmaking and writing, with occasional forays into radio broadcasting and theatre.

Jean-Daniel Lafond is the author of some fifteen movies, part of a long lineage of creative documentary filmmaking that includes Dream Tracks (1985, nominated for a Genie Award as Best Documentary), Le voyage au bout de la route (1987), Le visiteur d'un soir (1989), A State of Blackness: Aimé Césaire's Way (1991), Tropic North (1994 – TV5 Award for best French language documentary), Freedom Outraged (1994), Haiti in All Our Dreams (1995 – Best Political Documentary, Hot Docs Festival, Toronto 1996), Last Call for Cuba (1999 – nominated for best documentary, Gémeaux Awards), The Barbarian Files (1999), Salam Iran, a Persian Letter ( 2002 – Gémeaux Award for best documentary), Le faiseur de théâtre (2002 – Les Films d'Ici, France), The Cabinet of Doctor Ferron (2003 – Gémeaux Award for best documentary), American Fugitive or The Truth about Hassan (2006 – nominated for four Gémeaux awards in 2007, selected in over 20 festivals around the world), Madwoman of God (2008), The End of Certainties (2020)

While pursuing his filmmaking career, Jean-Daniel Lafond has created original radio content (with France-Culture and Radio-Canada), published books, and ventured into theatre. He co-founded in 1998 and presided over until 2005 over the Rencontres internationales du documentaire de Montréal and the Observatoire canadien du documentaire. His films have garnered a number of national and international awards, including the Lumières Award, in 1999.

In 2005, Jean-Daniel Lafond was named a Companion of the Order of Canada (C.C.), the highest civilian distinction awarded in Canada. In 2009, he was elected member of the Royal Canadian Academy of Arts (R.C.A.). In 2013, he was appointed Chevalier des Arts et Lettres by the French government. From 2005 to 2010, Jean-Daniel Lafond worked steadfastly towards supporting his wife, The Right Honourable Michaëlle Jean, in her function as Governor General, Head of State and Commander-in-Chief of Canada.

In 2010, Jean-Daniel Lafond became Distinguished Senior Fellow with the Faculty of Arts and Social Sciences, at Carleton University in Ottawa, and the founder of Le pouvoir des arts/ Power of the Arts National Forum.

In 2010, he agreed also to dedicate himself voluntarily to the Michaëlle Jean Foundation as Executive Director until 2020. Promise kept. The position will be opened next July.