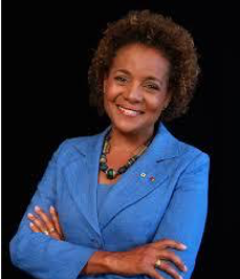 The Right Honourable
Michaëlle Jean, C.P.,
C.C., C.M.M., C.O.M.,
C.D.
Co-Founder, Co-President

Governance Committee
Member

Development and
Fundraising Committee
Member

Ottawa, Ontario
The Right Honourable Michaëlle Jean is the 27th Governor General, Commander-in-Chief of Canada, sworn in September 27, 2005, for a five-year mandate. As soon as the mandate ended, on October 1st, 2010, the United Nations immediately called on her to become UNESCO Special Envoy to support reconstruction efforts in Haiti, her country of birth devastated that same year as a result of a powerful earthquake. From 2011 to 2014, Michaëlle Jean also served as Chancellor of the University of Ottawa. On November 30, 2014, Michaëlle Jean then becomes after Boutros Boutros Ghali and Abdou Diouf the 3rd Secretary General of La Francophonie (OIF) an International Organization that brings together 88 States and Government on 5 continents a position to which she devoted her whole energies from January 5, 2015, to January 3, 2019.

Michaëlle Jean, a State woman and experienced diplomat, knows how to convince and testify eloquently of the state and the challenges of the world. She has shown her ability to convene everywhere in the multilateral space, in many United Nations forums, in New York as in Geneva, to the Security Council, as well as to the European Union, the European Parliament, the OECD and the African Union. She is known and appreciated for her convictions, her humanism, her deep sense of universal values, democratic principles and the rule of law, justice, rights and freedoms. Nothing can stop her courageous actions and commitments in favor of peace, the fight against terrorism, radicalization and extremism, the eradication of systemic racial discrimination. Michaëlle Jean believes in citizens' genuine and constructive initiatives, investing in human capital, building capacity and knowledge, modernizing education and vocational, technical and technological training. She knows how to mobilize women and youth, advocating in favor of their rights and their essential contributions.

Born in Port-au-Prince, Haiti, in 1957, Michaëlle Jean comes to Canada in 1968 with her parents, one of thousands of families fleeing the dictatorial regime of François Duvalier. She experiences the great trials of a forced exile, what it means to start from scratch, to rebuild oneself. Quebec becomes her new homeland. At the Université de Montréal, she earns a Bachelor of Arts in modern literature and languages (Italian and Spanish). She is so gifted that she is entrusted with teaching Italian language and literature for two years, while pursuing with equal success her Master's in Comparative Literature. Three scholarships allow her to pursue her studies at the University of Perugia, the University of Florence, and the Catholic University of Milan. Michaëlle Jean is fluent in five languages: French, Haitian Creole, English, Italian, Spanish, and she reads Portuguese.

Starting in her 20s and for over 10 years, Michaëlle Jean is active within the Quebec women's movement, working tirelessly to help build a vast network with hundreds of emergency shelters for battered women and their children. The network will spread throughout Quebec into other Canadian provinces.

From 1988 to 2005, Michaëlle Jean enjoys an outstanding career as a journalist, presenter and news anchor on Canadian public television, both French and English networks. Her accomplishments in journalism earn her numerous awards. She also takes part in documentary films produced by her husband, filmmaker, essayist and philosopher Jean-Daniel Lafond: "A State of Blackness: Aimé Césaire's Way," "Tropic North," "Haiti in All Our Dreams," "Last Call for Cuba," and "A Woman of Purpose."

Together, they have created and chaired since 2010 the Michaëlle Jean Foundation, whose programs support, through the power of the arts and culture, education and training, young people among the most vulnerable and vulnerable in Canada, by supporting their civic initiatives


Titles and Awards
The Right Honourable Michaëlle Jean holds the following official titles: Member of the Queen's Privy Council for Canada (C.P.), Companion of the Order of Canada (C.C.), Commander of the Order of Military Merit (C.M.M.), Commander of the Order of Merit of the Police Forces (C.O.M.) and the Canadian Forces Decoration (C.D.)

Numerous universities in Canada, the United States, Europe and Africa have honored her with honorary doctorates.

In 2009, Michaëlle Jean was awarded the United Nations Development Fund for Women (UNIFEM) Canada Award for her outstanding contribution in advancing gender equality. That same year, she received the Board of Governors Recognition Achievement Award from the National Quality Institute for her contribution to the quality of life of Canadians, and humanity.

In 2011, France elevates Ms. Jean to the dignified rank of the Grand Cross, the highest distinction granted by the order of the Legion of Honour, in recognition of "her acute awareness of the rights and freedoms that she defends on all fronts", her "deep sense of solidarity", "her unwavering courage to fight the injustices of this world", her "strong connection with France" and her "eminent contribution to Franco-Canadian friendship".

In 2014, the Republic of Benin elevates Ms. Jean to the rank of Grand Cross of the National Order of Benin. In 2015, Cameroon honours and decorates her with the distinction of Grand Officer of the Order of Valour of Cameroon. In 2016, the President of the Republic of Mali elevates in turn Michaëlle Jean to the honour of Grand Cross of the National Order of Mali, the country's highest distinction.